[ad_1]

MUMBAI: School students will soon have their own unique identification number, provided of course their parents give consent.
As part of the National Education Policy (NEP) 2020, the Union ministry of education has planned to create 'One Nation, One Student ID' called 'Automated Permanent Academic Account Registry (APAAR) for every student from pre-primary to higher education. This is in addition to the 12-digit Aadhaar ID that every student has.
The APAAR ID, an Education Ecosystem Registry or edulocker, is to be treated as a lifelong ID number and will track students' academic journey and achievements.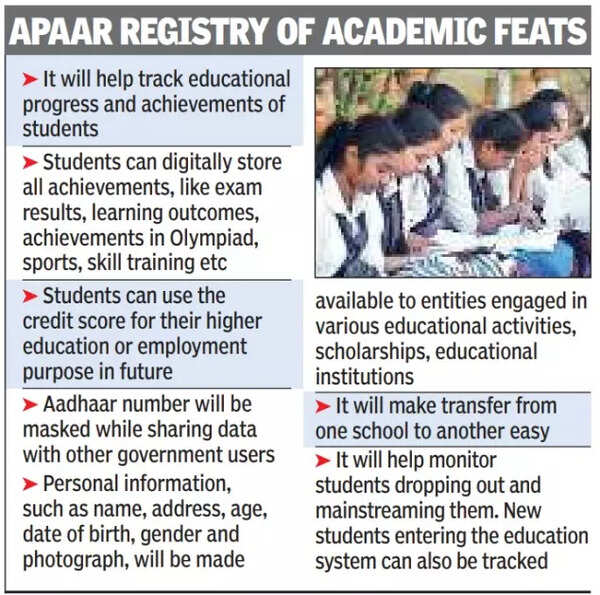 The ministry of education has directed all states and UTs to begin the process of creating APAAR IDs for students. "APAAR and National Credit Framework will be the QR code for learners across India. Every skill they pick up will be credited here," said T G Sitharaman, AICTE chairman.
The state school education department has asked educational institutions to organise a meeting of parents & teachers between October 16 and 18 to discuss the importance of creating the APAAR ID.
Chandigarh student selected to deliver speech in Parliament on Gandhi Jayanti
Data captured on the Aadhaar ID will be the basis of the APAAR ID. School heads said they are already struggling to update the Aadhaar details of students on the portal.
While parents' consent will be required, government has assured the data will stay confidential and will be shared only with government agencies, where required. Parents who give their consent can withdraw it any time. After the consent, it becomes the school's responsibility to upload the same on the central Unified District and Information System For Education Plus portal.


[ad_2]

Source link