[ad_1]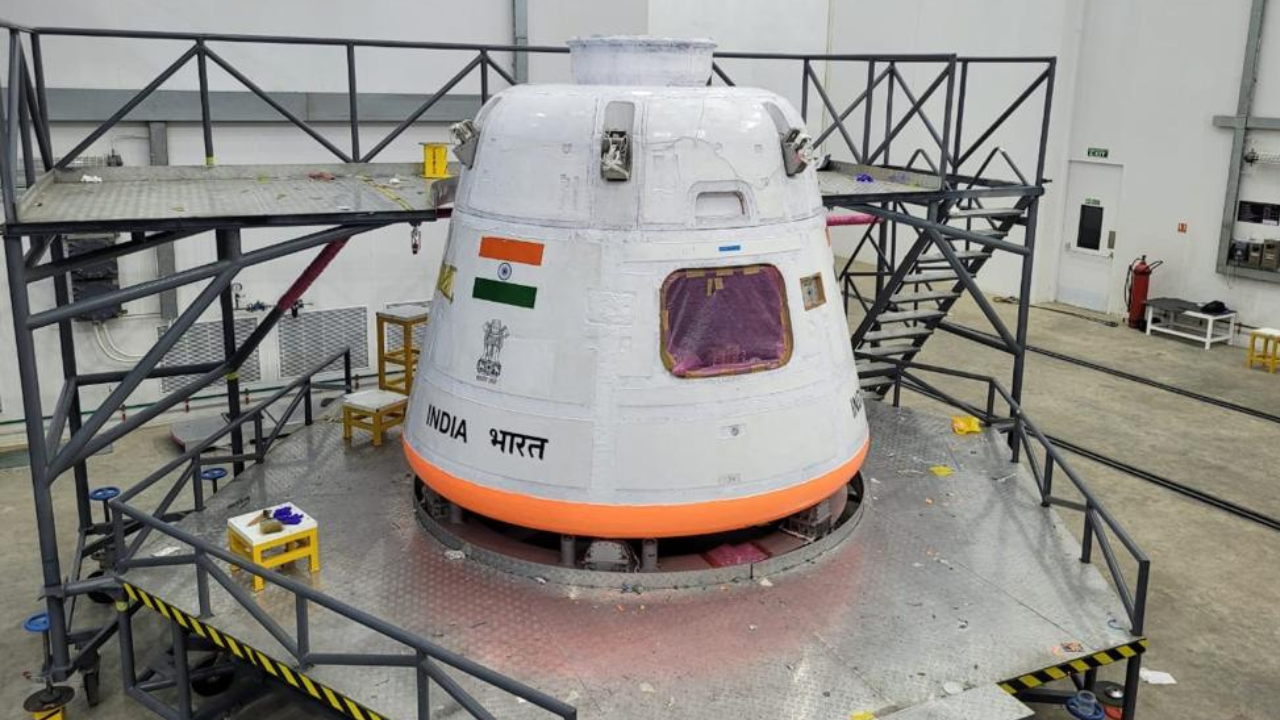 NEW DELHI: After its successful Chandrayaan-3 mission to the Moon, the Indian Space Research Organization (Isro) is set to hit another milestone on October 21 when it will launch an empty crew module from Satish Dhawan Space Center before bringing it safely back to Earth.
The test is part of Isro's Gaganyaan mission — India's attempt to launch at least three astronauts to low-Earth orbit before the end of 2024
"The first unmanned crew module test mission 'TV-D1' will take place on October 21," said Isro chief S SomanathThe upcoming test flight will look at the efficacy of the crew capsule's emergency escape system.
"The success of this test flight will set the stage for the remaining qualification tests and unmanned missions, leading to the first Gaganyaan mission with Indian astronauts," Isro had recently said in a statement.
The test Crew Module (CM) will be akin to the pressurised module that will hold crew members during their ascent to space — this version, however, will be unpressurised. It will be launched via a single-stage liquid rocket specifically developed for this mission that will simulate an abort scenario; the true CM, by contrast, will ride atop a 143-foot-tall (43.5-meter) Launch Vehicle Mark-3 (LVM3) rocket with a solid stage, liquid stage and cryogenic stage. The latter recently received human safety certifications, said R. Hutton, project director of the Gaganyaan mission.
The test will explore various other components of the mission, too, including drogue parachutes designed to stabilise and slow the spacecraft during reentry as well as "recovery aid actuation systems". A Crew Escape System (CES) tested during the demonstration and "CM fairing and Interface Adapters" will help the agency assess the emergency escape system that'll be used to eject astronauts if need be.
"This flight will simulate the abort condition during the ascent trajectory corresponding to a Mach number of 1.2 encountered in the Gaganyaan mission," the statement reads. "Subsequently, the abort sequence will be executed autonomously commencing with the separation of CES and deployment of the series of parachutes, finally culminating in the safe touchdown of CM in the sea."
Upon return to Earth, the CM will be recovered by a diving team from the Indian Navy in the Bay of Bengal using a dedicated vessel.
Eventually, another test flight will follow this one, which will carry a robot to outer space. That robot is named Vyommitra, which translates from Sanskrit to "space's friend," and has a humanlike face, can speak like a human and possesses robotic arms.
Watch ISRO advances Gaganyaan crew module development for abort test


[ad_2]

Source link