[ad_1]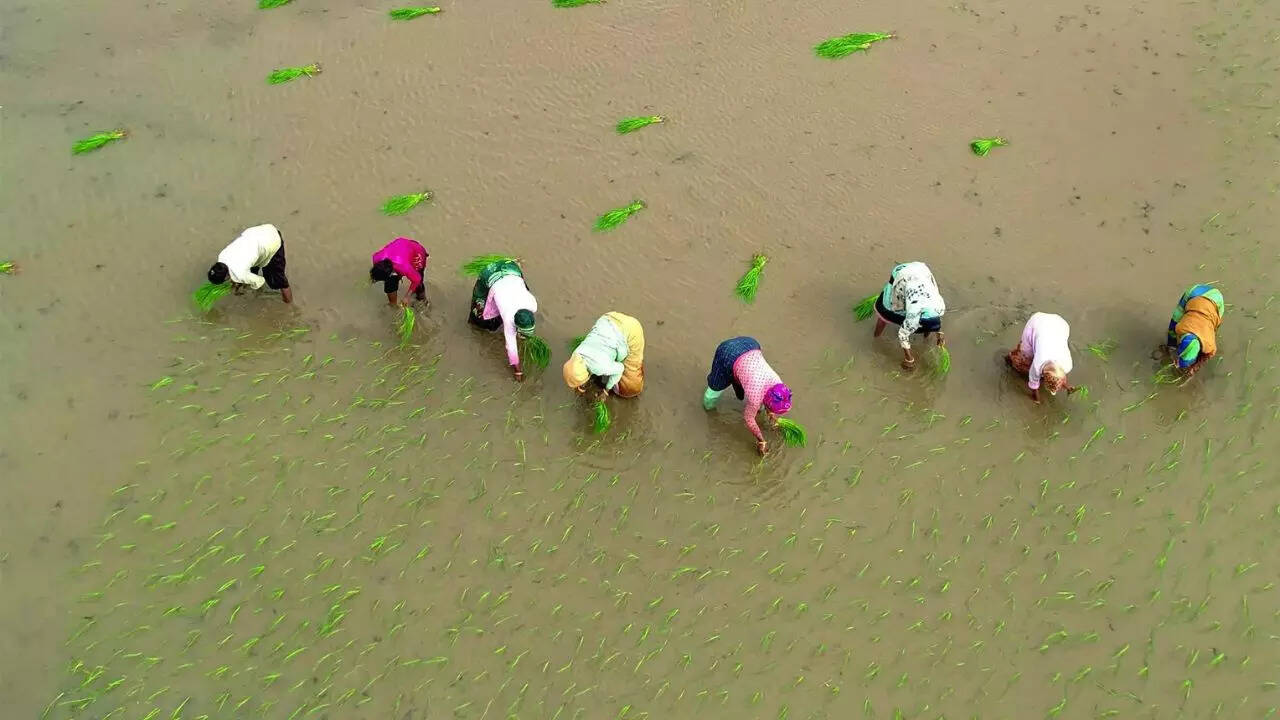 Much attention will be lavished on caste and community voting intentions in these state polls, very little on boring stuff like agriculture. Yet in MP, Chhattisgarh, Rajasthan and Telangana, farmers are key election influencers.
The farm factor, at the base level, comes from the share of population that works in agriculture – 72.4% in MP, 70% in Chhattisgarh, 62% in Rajasthan and 60% in Telangana. Farmers are the majority of voters in every state, just as they are in India as a whole. And here's the problem for whoever's in office and whoever aspires to be in office – all these farmers produce very little output. The share of agriculture in GSDP (gross state domestic product) – 36.3% in MP, 32% Chhattisgarh, 24% in Rajasthan and 21% in Telangana – is much lower than the share of farmers in population.
So, a lot of voters contend with low, stagnating incomes, depend heavily on government support and, given the inherent uncertainty of weather-dependent farming, can quickly move from sort-of-ok situations to despair.
That's how the farm factor plays out broadly. But it shape-shifts from state to state. The first point of difference is that voters in Telangana are relatively better off than those in the other three.
Annual per capita income is Rs 1.3 lakh in Chhattisgarh, Rs 1.4 lakh in MP and Rs 1.6 lakh in Rajasthan. Only states like UP, Bihar, Jharkhand are poorer than these three in per capita terms. Telangana, at Rs 3.1 lakh annual per capita income, ranks high among India's states.
The second set of variations in the farm factor come from regional crop-wise differences as well as impact or the lack thereof of state-specific government support schemes. Here's a snapshot of how the good and bad news in agriculture will play out in the four states.
MP
: High farm output and steady farmer income were major vote-catchers for Shivraj Singh Chouhan. This time looks different. Farm output growth has slowed. And erratic monsoon has meant a dry August and early September heavy rains, severely affecting many crops, including soybean, cotton and pulse. Take soybean. It's cultivated on 55-60 lakh hectares. MP contributes around 50% of the national soybean output. That gives an idea of how potentially deep farmer disaffection may be running. Crop losses are supposed to be covered by crop insurance. But payout happens only after surveys, which takes time. Last kharif and rabi season crop insurance money was released just a few days back. This year's losses are hitting kisans as polls loom. Congress says farmer suicides are up and farmer incomes are down. BJP has its work cut out, more so because by fielding Union agriculture minister Narender Singh Tomar it may have given Congress an easy target.
Chhattisgarh
: Bhupesh Baghel is hoping to ride on what Congress claims is the success of his paddy procurement scheme. Baghel swept to office in 2018 on the back of a Rs 2,500 per quintal procurement price promise for paddy. He kept his promise. And added two schemes. One that gave Rs 9,000 per acre per annum to all farmers owning land in the state. And another procured cow dung and cow urine from farmers at a set price. BJP reportedly has paid close attention to the second scheme, as it's straight out of its own playbook. Chhattisgarh, unlike large parts of MP, received more evenly distributed rain. And paddy's sowing season started a few weeks back. So, the monsoon is not playing as much of a spoilsport here. BJP, of course, is contesting Congress claims. Piyush Goyal, among others, have challenged Baghel. Modi has promised "procurement for every grain". But Baghel, so far, looks to be managing the farm factor.
Rajasthan
: As a desert state where monsoon arrives late and departs early, Rajasthan always struggles with farm production. Ashok Gehlot faces the same problem as Vasundara Raje did – low growth in farm output; CAGR (Compound annual growth rate) over the last decade is only 2.7%. Groundwater levels are falling, and production is skewed towards seven crops under MSP: wheat, mustard, gram, groundnut, moong and soybean. Farm economists say MSP must be given to a wider range of crops to encourage farmers to diversify, because currently overproduction of the seven MSP crops is a major problem. Farmers complain, as they did during BJP's rule, of rising input and labour costs and stagnating output prices. Warehousing and cold storage facilities remain as patchily available under Congress as they were under BJP. Rajasthan farmers aren't any happier with Congress than they were with BJP. Gehlot has a tough job.
Telangana
: Kisans have been in KCR's focus since the state was born in 2014. CAGR of farm output from 2014-15 to 2022-23 is a healthy 14%. KCR also started the DBT scheme, Rythu Bandhu, that's supposed to have been a model for Modi's PM-KISAN. The Telangana scheme gives Rs 5,000 per acre twice a year to farmers. KCR claims paddy – the state is second largest supplier of paddy to FCI – and cotton as success stories. But all's not well with Telangana's farmers. KCR's government doesn't implement the Central crop insurance scheme. Had the state's disaster relief funds been released quickly when erratic weather affected production, this wouldn't have been a big issue. But that didn't happen until this year, the election year, when crop losses due to heavy March rainfall were quickly reimbursed. How the crop insurance issue will play out is a thing to watch out for. As will be the tenant farmer issue. KCR gave tenant farmers formal recognition that allowed them to get benefits like bank credit. But this process has happened only once, in 2015-16. Many tenant farmers are as of now left out of the scheme. KCR must work on the farm factor.