[ad_1]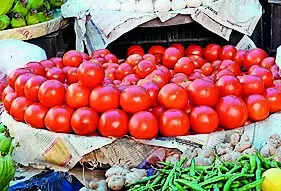 NEW DELHI: Tomato prices have fallen below Rs 100 a kg across cities against the peak of Rs 250-260 per kg a fortnight back. The Centre has started selling the key kitchen item at Rs 40 per kg from vans deployed by the two government-owned cooperatives NAFED and NCCF.
This year has been the first time ever that the government has had to sell tomatoes at a discounted price and so far around 1,500 tonnes of tomatoes have been sold in the open market by the two cooperatives across cities where the prices spiked.
The data of prices compiled by the consumer affairs ministry shows that tomatoes were selling at more than Rs 200 a kg across 31 centres on August 4 and the maximum price was Rs 257. But a fortnight later, on Friday, the retail price of the kitchen item was over Rs 200 only at two centres in Andaman and Nicobar Islands.
As per the data, the average tomato prices in the country has fallen to Rs 96 a kg on Friday compared to Rs 140 a fortnight back. In Delhi, Kolkata and Chennai, the prices have slipped to Rs 97, Rs 100 and Rs 52 a kg respectively. In the case of Mumbai, there is a marginal decline in the price from Rs 159 a kg on August 4 to Rs 147 on Friday.
Officials monitoring the availability, supply and prices of essential commodities said the prices will fall further in the next two weeks and they are hopeful of normalcy by the first week of September. As per the estimate, the monthly harvest of tomato will increase almost three fold in the next month to touch 2.14 lakh tonnes and will further go up to 2.9 lakh tonnes in October, 3.2 lakh tonnes in November and 3.7 lakh tonnes in December.