[ad_1]

NEW DELHI: PM
Narendra Modi
on Friday cited two independent reports on income taxpayers to argue that income levels have increased in the country and there is better compliance due to the trust shown by the government.
"Growing prosperity augurs well for national progress. Undoubtedly, we are standing at the cusp of a new era of economic prosperity and are on course towards fulfilling our dream 'Viksit Bharat' by 2047," he said in a LinkedIn post.
The PM pointed to a recent SBI report, which had used the data on income tax returns, to point out that the weighted mean income has increased almost three times to Rs 13 lakh in 2022-23, from Rs 4.4 lakh nine years ago.
He also used an analysis by journalist Anil Padmanabhan, which had indicated that there was a widening of the tax base across income brackets with each seeing at least three-fold increase in tax filings.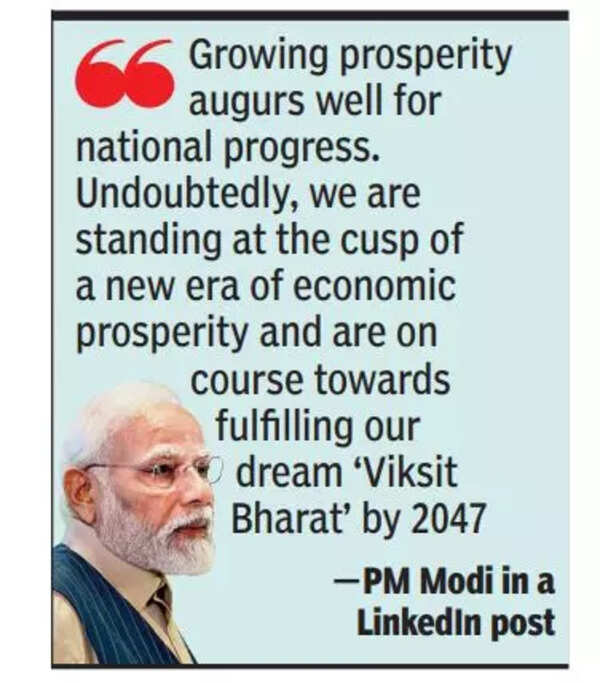 'UP, Bihar see sharp rise in I-T return filings'
The blog post had also said that tax filings had gone up across states, with UP and Bihar seeing a sharp increase.
UP for instance has seen an over seven-fold jump in income tax return filing – from over 1.6 lakh in June 2014 to more than 11.9 lakh last June. The SBI report had said that smaller states, including Manipur, Mizoram and Nagaland, have seen an over 20% growth in this period.
"These analyses shed light on something that should make us very happy – that India is making remarkable progress on achieving equitable and collective prosperity," the PM said in post on the professional networking platform.
Modi also reiterated that greater trust in citizens had resulted in better compliance. "This shows that not only have incomes risen but so has compliance. And, this is a manifestation of the spirit of trust which the people have in our government," he said in the post.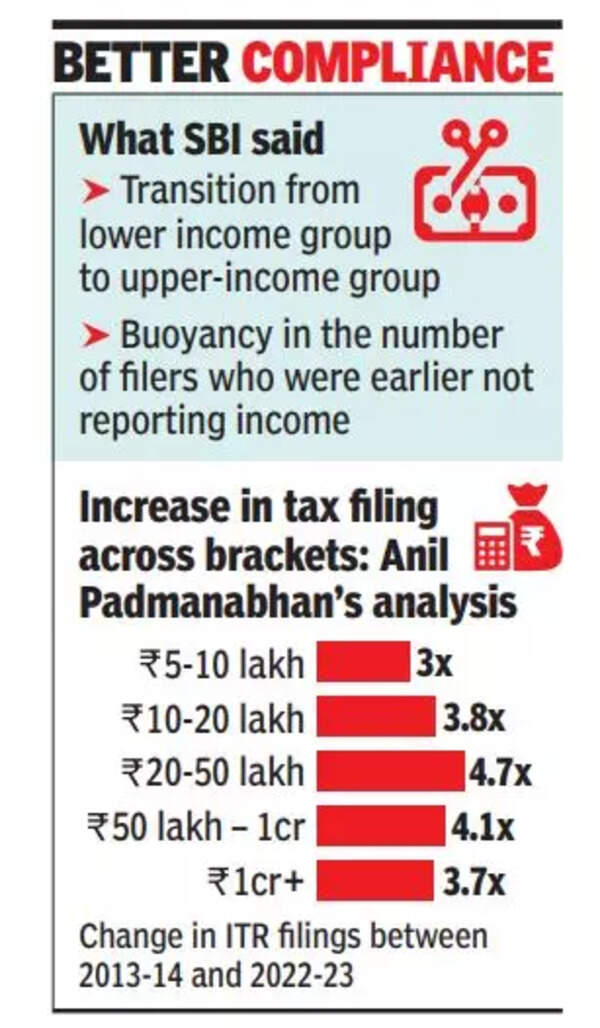 In his Independence Day address, the PM had said that around 13.5 crore Indians who moved out of poverty, based on NITI Aayog's multidimensional poverty index estimates, and entered the new middle class.
"When poverty reduces in the country, the power of the middle-class section of the country increases manifold… When the purchasing power of the poor increases, the power of the middle class to carry out business grows too," he had said.


[ad_2]

Source link